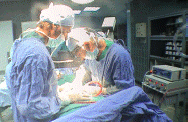 Most of the site will reflect the ongoing surgical activity of Prof. Munir Elias MD., PhD. with brief slides and weekly activity. For reference to the academic and theoretical part, you are welcome to visit neurosurgery.tv

11-OCTOBER-2011 JABER AHMAD ALIYAN 65 YEARS OSTEOLYTIC DESTRUCTION OF D11 WITH INSTABILITY AND BONY COMPRESSION - PLASMOCYTOMA.

Anamnesis

| | |
| --- | --- |
| | The patient came to the clinic 01-October-2011 complaining of LBP for 8 months with bilateral sciatica for 5 months. MRI of the spine performed 06-April-2011 showing wedging of D11. CT-scan done 17-April-2011 showed osteolytic lesion of the D1 with involvement of the left pedicle and the left side of the lamina. Bone density scan done 26-July-2011 confirming osteoporosis. |
| | On examination: the patient using crutches for 3 months, cannot walk to evaluate the scoliotic stance. There is weak dorsiflexion and planterflexion both feet 3/5. Adduction and abduction of the knees and left quadriceps 3/5 and the right quadriceps has 4/5 scale. SLRS was 30 degrees in the right side and 20 degrees in the left due to weakness. There is paraaneasthesia below D 10, both sides. There is dripping of urine. |
| | MRI lumbar spine repeated 03-October-2011 showing severe compression of the spinal cord at the completely eroded D11. CT-scan showing that the adjacent disci are in direct contact. Bence-Jones protein in urine was negative. |
| | Decompressive laminectomy of D11 and 12 with partial of D10 was done. The left half of the D11 lamina and the pedicle were full of tumor, which was sent for investigations, which proved to be plasmocytoma. The tumor inside the body of D11 was also removed. Part of the tumor was adherent to the dura and it was coagulated. Through the removed tumorous left D11 pedicle, 40 cc of Bone-Save was inserted to fill the empty bone spaces. Using DepuySpine Expedium system, 2 monoaxial screws 5x35 mm inserted to the D10. Two screws 5x54 mm inserted to the D12 level. Titanium rods 90 mm length were applied and about 20 mm distraction was applied. Further impaction of bone graft was inserted to the body of D11. Cross Connector was applied for further stability. |
| | Routine closure of the wound. Smooth postoperative recovery with slight improvement of the power of both legs. |

---

Please! wait for 3-5 min till the video start to load. It depends upon the internet connection.

Comments

| | |
| --- | --- |
| | The patient has neglected plasmocytoma. which eroded most of the body of D11 during the 8 months period. If the patient was diagnosed early, the surgery was mostly un-needed. |
| | The Bence-Jones protein was negative, but the patient has plasmocytoma, for what MRI spectoscopy is very powerful, to resolve such conflict. |

Postoperative check CT-scan with screw fixation and bone grafts.




Notice: Not all operative activities can be recorded due to lack of time.
Notice: Head injuries and very urgent surgeries are also escaped from the plan .