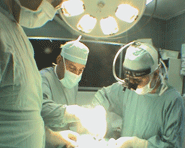 Most of the site will reflect the ongoing surgical activity of Prof. Munir Elias MD., PhD. with brief slides and weekly activity. For reference to the academic and theoretical part, you are welcome to visit neurosurgery.tv

16-02-2005 PLD L5-S1 RIGHT SIDE WITH LCS L4-5

A 35 year old gentleman after lifting heavy object one month ago, got LBP with severe right sided sciatica, then MRI performed and showed very huge extrusion of L5-S1. On examination: The patient had drop right foot with severe weak planterflexion of the same foot. Anaesthesia of the left L5, S1 territories. He was operated 16-02-2005. Using the high-speed drill and miroinstrumentation, laminectomy of L5 with bilateral flavotomy L4-5 with decompression of the stenotic segment at that level was performed. The right S1 root was shifted up and lateral. The extruded mass was attacked below the axilla and piecemeal resection was done to avoid any distraction injury to the surrounding neural structures, The extruded disc L5-S1 was removed and foraminotomy of right S1 root was performed. This demonstration, reflecting the fact, that despite absence of clinical manifestations of LCS, it is preferable to resolve this problem, to avoid the patient of eminent surgery in the near future. The patient came to the clinic 03-Mart-2005 with normalization of the power and sensation of his feet and disappearance of sciatica. The wound was clear and as usual , he was complaining of right buttock pain.

Comments:

1. In this case only the extruded piece was removed and the disc space was not violated because the defect in the annulus fibrosis practically was not visible. Time will tell if such strategy will diminish the rate of recurrence.