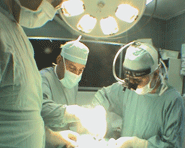 Most of the site will reflect the ongoing surgical activity of Prof. Munir Elias MD., PhD. with brief slides and weekly activity. For reference to the academic and theoretical part, you are welcome to visit neurosurgery.fr

28-02-2005 HUGE EXTRUDED DISC C5-6 WITH RADICULO-MYELOPATHIC SYNDROME.

A 43 gentleman with bilateral sciatica, more the right came to the clinic 30-09-2004 for more than 5 months. The last 20 days lost ability to walk. CABAG was performed 1996. MRI lumbar spine done 18-05-2004 showed no disci with possibility of tethered cord??. On examination the patient had neck pain with headache for 2 years. Weak grip and extension right hand and the right triceps were noted with hypalgesia of the entire right hand and medial aspect of the forearm. It was also noticed that hypalgesia of the right leg below D10 level with weak proximal muscles of the of the right lower limb. The patient was sent to perform MRI of the brain, cervical spine. The later showed massive huge extrusion of disc C5-6, compressing the spinal cord.