The patient came came to the clinic 11-June-2006 complaining of LBP for 7 months with bilateral sciatica more the left. She was limping with scoliotic stance. SLRS was 60 degrees in the right and 40 degrees in the left. She had hypalgesia of the left S1 root with weak dorsiflexion both feet. MRI performed, showing LCS L4-5 with huge extrusion at the right side.

The patient was operated: bilateral flavotomy with foraminotomy to both L5 roots was done. The extrusion was removed from the right side in one piece. Seeking the defect in the annulus fibrosis showed very small defect, for what it was intentionally decided not to violate the intradiscal space.

Routine closure with smooth postoperative recovery.

Comments:

1. During drilling of the medial aspects of the facets, there is a persistent vein in the upper corner of the facet, which I gave it the name of Ali Bayati vein, the name of my lovely assistant. The practical importance of this vein, that it indicate the limits of the upper corner drilling limits, after what the ligamentum flavum disappear and drilling must be performed with precaution, using some device to protect the epidural fat or the dura from possible injury during drilling.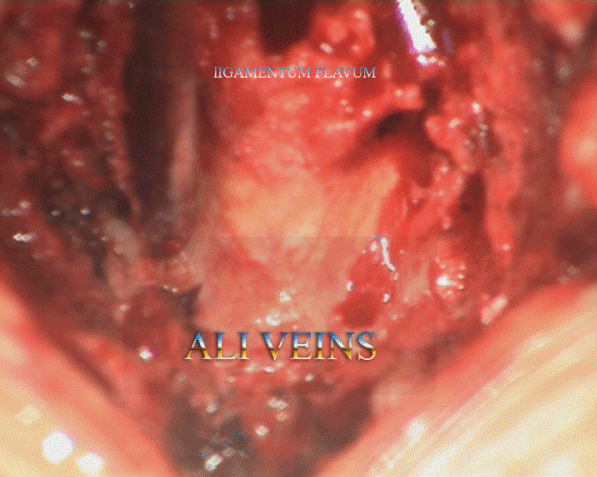 2. When LCS and relative huge extrusion took place simultaneously, it is hard to tell which root/roots , most affected, and it is hard to predict the localization of the extrusion.