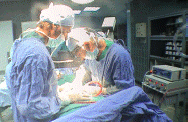 Most of the site will reflect the ongoing surgical activity of Prof. Munir Elias MD., PhD. with brief slides and weekly activity. For reference to the academic and theoretical part, you are welcome to visit neurosurgery.tv

27-JULY-2011 MURAD NABEEL ABU-AFIFEH 26 YEARS POST-TRAUMATIC CSF LEAK FROM THE FRONTAL SINUS AND SUBSTANSTIA CREBROSA WITH CHRONIC SUBDURAL HEMATOMA RIGHT FRONTAL LOBE.

Anamnesis

| | |
| --- | --- |
| | The patient came to the clinic 24-July-2011 complaining of persistent CSF leak from the nose, 6 weeks after RTA 25-May-2011 with which had had loss of consciousness for one day and underwent surgery for nasal bone fracture and left foreleg fracture. |
| | CT-scan brain and MRI brain done 16-July-2011 showing fracture of the frontal sinus with CSF leak from the fracture sites. There is subdural hygroma right frontal region. |
| | On examination: the patient has bilateral anosmia. He claim that he has blurred vision right eye. There is no meningism, nor fever. The patient had mild left sided paresis. The patient was put with the nose down, the CSF immediately came out. |
| | Bifrontal incision was done behind the hair line and reflected to the face. The bone flap reflected to the left ear. The chronic subdural hematoma was evacuated from the right frontal area and meticulous irrigation was performed. The dural incision was closed water-tightly. Dissection of the dura from the base of the frontal bone. There are three bony defects one behind the olfactory bulb right side and one extending from symmetrical point reaching the planum sphenoidale. The third was near the fractured crista Galii. All the dural tears and defects were water-tightly closed using 4 zero nylon and the dura after repair was aided with lyodura with glue. The bony defects to the ethmoid cavities were filled with muscle and glue. Ready vac drain was inserted to the extradural space and the bone was reflected back. |
| | Routine closure of the wound. Smooth postoperative recovery. |

---

Please! wait for 3-5 min till the video start to load. It depends upon the internet connection.

Comments

| | |
| --- | --- |
| | Anosmia is very common in head injuries, it could happen in 10% of severe head injuries, but here due to direct trauma to the region, the anosmia must take place in 100% of cases due to tiny structure of the fillia olfactoria. |
| | The bone defects are wide, and only surgical repair could resolve the problem. |
| | The chronic subdural hematoma usually take place in old patients, but here he is an exception. |




Notice: Not all operative activities can be recorded due to lack of time.
Notice: Head injuries and very urgent surgeries are also escaped from the plan .