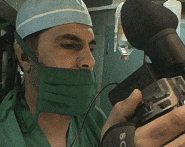 Most of the site will reflect the ongoing surgical activity of Prof. Munir Elias MD., PhD. with brief slides and weekly activity. For reference to the academic and theoretical part, you are welcome to visit neurosurgery.tv

The patient is 8 months age baby with progressive hydrocephalus, despite the fact , that first level performance of delta shunt was inserted to him. A regular low pressure Medtronic VPS pediatric size was inserted. The fontanel immediately became lax.

Comments:

Experience over 15 years with the delta version of the PS Medical previously and now Medtronic have some defective architecture in their design. The distal part of the reservoir is very miniature, that it is liable to closure or malfunction.

The regular version, despite the fact that it is older, still have lesser complications than the delta type.

In advanced hydrocephalus it is preferable to use the low pressure VPS. especially if there was previous infection to avoid occlusion or malfunction from the debris.