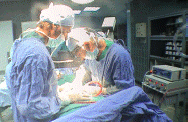 Most of the site will reflect the ongoing surgical activity of Prof. Munir Elias MD., PhD. with brief slides and weekly activity. For reference to the academic and theoretical part, you are welcome to visit neurosurgery.tv

28-SEPTEMBER-2011 SHIRIN MAHMOUD ATTALLA 48 YEARS HUGE EXTRUDED DISC L5-S1 WITH RIGHT DOWNWARD MIGRATION.

Anamnesis

| | |
| --- | --- |
| | The patient came to the clinic 24-September-2011 complaining of LBP with right sciatica for 10 days with numb right foot. |
| | MRI lumbar spine performed 25-September-2011 showing huge extruded disc L5-S1 with right downward migration. |
| | On examination: the patient is limping, has exaggerated scoliotic stance. There is weak dorsi and planterflexion right foot -4/5. SLRS was 75 degrees in right side with pain. |
| | Using C-arm the level of L5-S1 was identified and right S1 foraminotomy with partial flavotomy of L5-S1 was done. The extruded disc was removed lateral to the axilla and parts by subaxillary route. Right sided cleaning of L5-S1 disc space was achieved. Some parts of the extrusion were hard in consistency and were adherent to the anterior wall of the root. Inspection for CSF leak was done by putting the patient in head up position with Valsalva maneuver. No CSF leak. The epidural fat was preserved and reflected to the missing parts of the root cover. |
| | Routine closure of the wound. Smooth postoperative recovery with improvement of the power of right foot. |

---

Please! wait for 3-5 min till the video start to load. It depends upon the internet connection.

Comments

| | |
| --- | --- |
| | The estimated postoperative recurrence in this case is below 7%, because the disc space is relatively shallow. |
| | The patient was given Zinnat 500 mg twice daily and Relaxon three times daily, Rapidus 50 mg three times daily, Nexium 40 mg once daily, Nucleo CMP twice daily and Celebrex 90 mg once daily after discharge the second day after surgery. |
| | The patient progressed the 4th postoperative day the clinical picture of Guillain-Barre syndrome, for what she admitted and treated accordingly. |
| | All medications were stopped and Solucortef 100 mg was given via i/v route three times a day with Menopace and Perfalgan 1 gm i/v twice daily. IGIV with Intratect 100 ml (5gm) was administered 5 times a day starting form the noon of 08-October-2011 for 5 days. |
| | Concerning the drug induce or related Guillain-Barre syndrome for more information click here! |

Follow Up

| | |
| --- | --- |
| | The patient was treated with 5 sessions of plasmophoresis 2 weeks after slight improvement after IGIV with subsequent deterioration and for insurance reasons, permission for plasmophoresis was approved when the patient was in ventilator. |
| | The patient showed mild improvement and she was discharges 25-November-2011 with still inability to help herself to eat or ambulate. She was bedridden and by telephone communication at 10-December-2011 the patient showed another surge of deterioration. |




Notice: Not all operative activities can be recorded due to lack of time.
Notice: Head injuries and very urgent surgeries are also escaped from the plan .