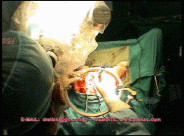 Most of the site will reflect the ongoing surgical activity of Prof. Munir Elias MD., PhD. with brief slides and weekly activity. For reference to the academic and theoretical part, you are welcome to visit neurosurgery.tv

02-MAY-2005 YUSRA MUHAMED AREF 40 YEARS RECURRENT PROLACTINOMA , RECALCITRANT TO MEDICAL THERAPY

The patient was operated one year ago elsewhere for prolactinoma and no radiation was followed, but different prolactin suppressing agents were used without effect. The tumor continued to grow and it reached the chiasm and optic nerves with mainly infrasellar extension. The patient was operated another time through the same transnasl approach: The bony defect in the anterior wall of the sella was only 3x3 mm. It was widened and the tumor was removed until, it was possible to see the shifted pituitary gland posteriorly and the bone under the tuberculum sellae was removed for another 3 mm. During this, it was possible to notice that the dura even without exposing it to surgical trauma was defective, through which it was possible to see the arachnoid intact. Later in the inspection the arachnoid got pinpoint defect and CSF leak took place. Considering the small size of the defect a small piece of muscle harvested from the quadriceps muscle , aided with glue sealed the defect. Trails with Valsalva maneuvers ruled out the presence of CSF leak.

The histological picture of the recurrent pituitary adenoma.